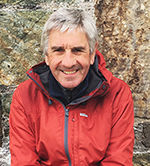 I enjoy studying and learning from professionals by attending lectures, reading articles, visiting exhibitions but most importantly by getting out there into the landscape by myself. Travel offers many photographic opportunities, sometimes unexpectedly which makes travel so interesting - different cultures, languages, climate and landscape but most important, the people that you meet. Although landscape and travel photography are my main interest I enjoy also sports photography, although this is a casual interest.
Before visiting a landscape location I undertake, and enjoy, planning the trip by studying maps, the photographer's epheremis, local information etc. However, when on location there is much to be assessed in order to decide upon the most suitable composition for the topography and make best use of the all important light. I find the work of that great English landscape painter, J M W Turner, such an inspiration and very worthy of his title as
"The painter of light.
" I am a great believer in making full use of the camera's capability in the production of the landscape image and thereby minimizing post-processing - so, "getting it right in the camera" is important to me. During a day's photography I am happy to have achieved a handful of good images from a couple of locations.
In May 2010 I gained my Licentiateship Distinction qualification, LRPS, to the Royal Photographic Society
www.rps.org
. I was successful in September 2016 with my Associateship Distinction qualification with the RPS with a panel of 15 photographs of The Romney, Hythe and Dymchurch Railway in East Kent.
Please contact me if you would like to purchase any of my photographs as prints, with or without mounts. In undertaking my own printing I use four types of high quality archival paper; Epson Premium Semigloss Photo Paper, Fotospeed Smooth Cotton SC300 which provides a 'painterly' image, Permajet Oyster 271 and Permajet Fine Art Fibre Base Royal Gloss 310. The inks for the Epson printer are Epson K3 inks, which are durable anode superior quality. The mounts are cut from 3 mm antique white card with a neutral ph non-acidic white core, which is reputed to remain white for over 100 years if kept out of direct sunlight. Postage and packing can be arranged worldwide.
Against each sale I will make a substantial contribution to the charity
www.soschildrensvillages.co.uk
, see Links section.
All photographs on my website are
Copyright©StuartThompson